As our students enter High School, they've already started on their path to becoming talented musicians, artists, writers, and scientists. Now, they'll continue their lessons on other languages and cultures. Furthermore, students will start to expand their view on scientific concepts through experimentation and exploration of hypotheses while gradually making a shift to the IGCSE curriculum.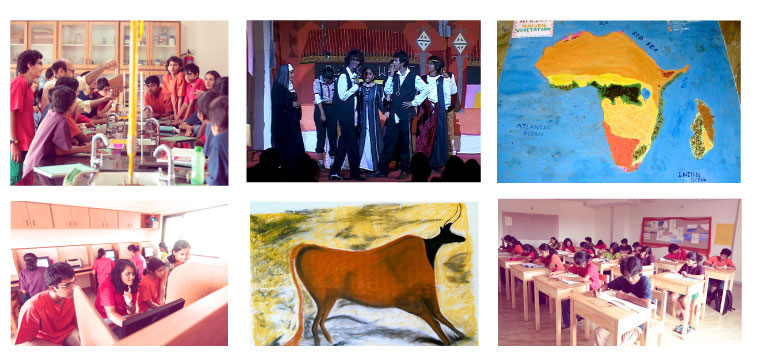 Grade Seven
We consider our Class VII as a bridge where instead of one class teacher for the main lesson, the students now have a range of specialist subject teachers. Main lessons continue so that the young people can discover the creative possibilities in each subject area as it is gone through, in depth, every day, for 3 to 4 weeks, one of the most exciting Main Lessons being the study of Astronomy, where they go on a 2 week trip to Kutch. Other lessons in the day are English, Mathematics and Science, various crafts, art and music, movement and sports. This is the first step towards becoming independent as well as expressive. They slowly enter a realm where they learn to express themselves to many teachers. Regional Language Marathi is also taught to the students. Learning another language gives the learner the ability to step inside the mind and context of that culture.
Grade Eight
Class VIII serves as a preparatory year designed to meaningfully progress to the courses of study in classes IX and X.
In Class VIII students will experience a four weeks Drama block which is a very essential part of Steiner Education for the teenagers who need to be someone else other than themselves. One very important aspect of class VIII is Social Learning which will help them know more about their society and how to contribute to it. It develops their social skills and makes them more aware of their surroundings.
Grade Nine & Ten
As the students move to Class IX & X, there will be further developments, where we provide a few more subjects to keep pace with the developing world and the ever growing needs of our young adults.
Firstly, we, at Tridha, strongly believe in making our students Global citizens while retaining their deep rooted Indianess. Therefore it is important for them to learn about their own country and culture. To inculcate the love and respect for Indian culture the learning of Hindi, as a second language, will always be emphasized and the students will appear for Hindi exam. We also offer India Studies which is a new IGCSE subject. This will help students to know more about their own country. The subject will not only help them to learn the history and culture of India but will also throw light on the political and economic aspects of our country.
To become active Global citizens it is important for us to be aware of the scorching global issues. Therefore we offer Global Perspective as a subject. Cambridge IGCSE Global Perspectives is a groundbreaking new course that is cross-curricular, stretching across traditional subject boundaries. It taps into the way today's students enjoy learning – which include group work, seminars, projects, and working with other students around the world. The emphasis is on developing the ability to think critically about a range of global issues where there are always more points of view than one's own singular outlook. Through this subject they will develop their potential to understand different perspectives and to make reasoned responses: skills which will be useful in their study of all other subjects.

The Steiner subjects taught alongside to broaden horizons of art and culture will be History and Understanding of Drama in class IX and History of Art and Understanding Comedy in class X.
These subjects lead students to dwell upon and further research into specialized realms which help them make sense of human development.
We will be offering the following subjects in IX and X.
Options for IGCSE classes (IX –X)
I
Group 1
(Languages)
II
Group 2
(Mathematics)
III
Group 3
(Sciences)
IV
Group 4
(Humanities
& Social Sciences)
V
Group 5
(Creative,
Technical & Vocational)
Mandatory
English
Hindi
Mathematics
Pure Science or Combined Science
History
Optional
Economics
ICT
Accounts
Art and Design
Students need to choose any two from the optional subjects.
[Subject option with less than five students will not be offered.]
We have opted for the Feb/March Session from 2017, for both classes X and XII.