The Tridha Uniform is the Kurta with the Tridha logo on it. It is available in various colours. The children are free to wear the colour of their choice on any day. Trousers, knee-length shorts, skirts or capris may be worn with the kurtas. Kindergarten students may wear skirts. It is compulsory for all students to wear the Tridha kurtas on all days except birthdays and days of festival celebrations. The clothing on these days should be appropriate and free of advertising logos, cartoon characters or popular personalities.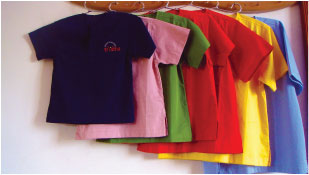 Children are not encouraged to wear any ornaments, fancy hair clips or fancy hair bands. Small earrings are allowed. Simple wrist watches may be worn from Class III onwards.
Indoor shoes (a closed and comfortable pair, with a thin flat sole) are compulsory from Class I to IV. Sport shoes with laces should be worn on days when the children have sports.
During the monsoon, students should carry a raincoat in their bags. Umbrellas are strictly not allowed for children upto class III, for reason of safety.